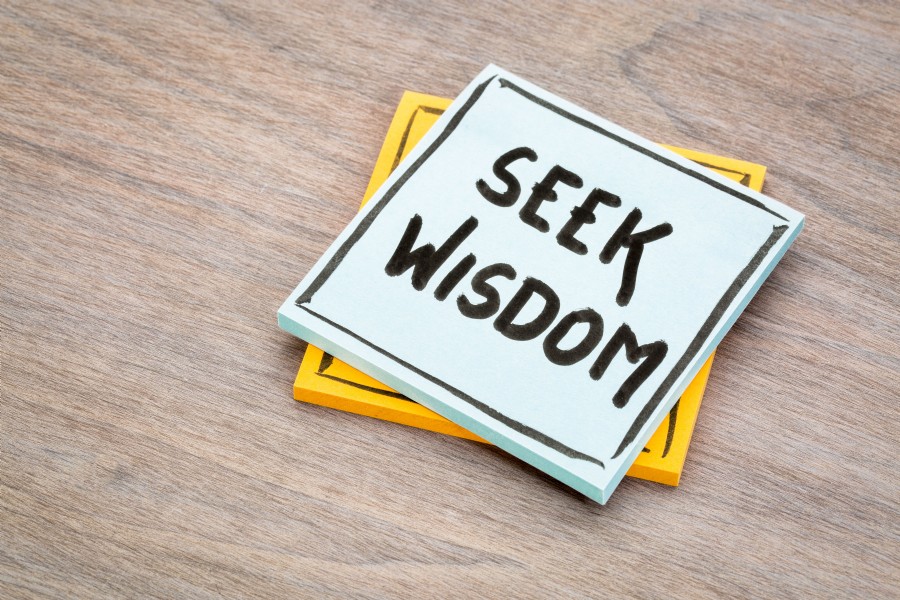 Proverbs 4:5-9 Get wisdom, get understanding;do not forget my words or turn away from them. 6 Do not forsake wisdom, and she will protect you; love her, and she will watch over you. 7 The beginning of wisdom is this: Get[a] wisdom. Though it cost all you have,[b] get understanding. 8 Cherish her, and she will exalt you; embrace her, and she will honor you. 9 She will give you a garland to grace your head and present you with a glorious crown."
One of the greatest teachers of all time is wisdom. In 1 King 3, Solomon had become king with the passing of his father, King David. The Lord appeared to Solomon in a dream and asked him what he would want as reigning King. Solomon demonstrated insight into the heart of God by asking for wisdom to rule the people and a discerning and obedient heart toward God. God was so please that He gave Solomon wisdom of the ages and promised there would never be a wiser person on the earth. In addition to wisdom, God gave King Solomon both wealth and honor. What a powerful narrative. That same King in turn wrote most of proverbs and advised us all to learn from wisdom.
There are tremendous benefits in asking for wisdom according to James 1:5. James expressed that God will give wisdom to all generously without reproach by asking for it. Why did James suggest asking for wisdom? He was speaking of the virtue needed to face trials so that whatever the challenge, it will bring about maturity and the completed results God intended for allowing the trial in the first place. So why wisdom? King Solomon narrates that wisdom was the foundation in which God fashioned the earth. It is one of the seven spirits endowed to Jesus when he came to earth to do God's ordain mission of redeeming man back to Him.
Proverbs 3:18 declares wisdom is the tree of life to those who take hold of her and happy are they who retain her. Therefore, if you are experiencing a trial, wisdom is definitely a virtue worth asking to have. Proverbs 3:7 states it is the principle thing. Wisdom speaks and she says that whoever listens to her will dwell in safety nor fear evil. According to Proverbs 1:33, length of days are in her right hand, riches and honor in her left hand. We are encouraged in Proverbs 4:6-8 not to forsake wisdom and she will preserve you; love her and she will keep you. We are counseled to exalt wisdom which means to esteem having wisdom in your life. Pray for God's wisdom to guide you every day. Ask Him to open your spiritual eyes to see the work of wisdom in life then learn from it. Pray for your spiritual ears to hear the call of wisdom. In doing so according Proverbs 4:8-9 she will bring you promotion and honor as you embrace her.
No wonder James admonishes us to pray for wisdom that is not according to the standards of this age. Knowing information is one thing; knowing how to use information is of great gain. That is the power of God's wisdom. Wisdom is the lifesaving, life-changing virtue that James encourages us to seek. Wisdom like love is as perennial as life itself. Be exhorted to allow your prayer focus plea to be for God's wisdom. Ask for it, seek it and meditate on it through the scriptures of Proverb. "You just don't want to live life without it." If I had to use a tagline for wisdom it would be – "don't live life without it."